Enfermeria acto del cuidado. Estrategia prioritaria para servicios de Endoscopia Digestiva .7
Gráfico Nº3. Percepción Del Paciente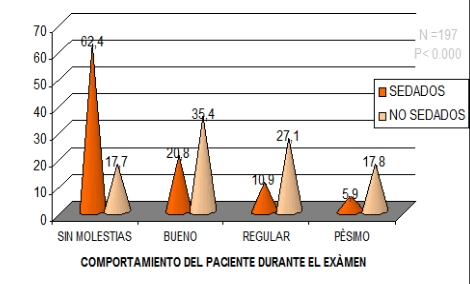 Gráfico Nº4. Criterios De Percepción Del Paciente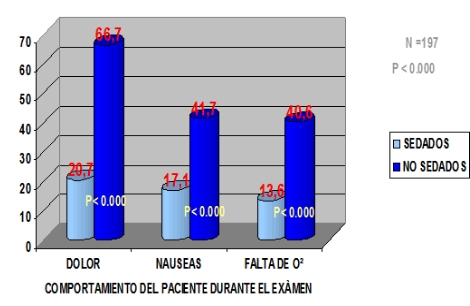 Gráfico nº 5. ¿Se Volvería A Realizar El Examen Bajo Las Mismas Condiciones?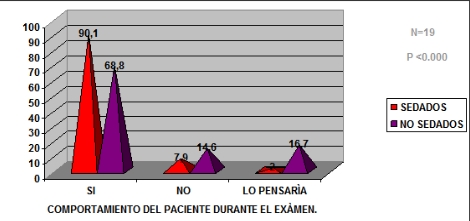 Referencias

1. MICHAEL.V.SIVAK, JR., M: D. (1999) Gastroenterologic Endoscopy. Chapter 38 Technique of upper Gastrointestinal Endoscopy.
2. SLEISENGER & FORDTRAN. Enfermedades Gastrointestinales y Hepáticas (2000) Cap. 19 Complicaciones de la Endoscopía Digestiva 325-333.
3. IBER, FL, et.al (1993) Evaluation of complications during and after conscious sedation using pulse oximetry. Gastrointestinal endoscopy 39: 620.
4. VARGO, J, et.al (2002) Automated graphic assesment of respiratory activity is superior to pulse oximetry and visual assesment for the detection of early respiratory depression during therapeutic upper endoscopy. Gastrointestinal endoscopy. 55/7.
5. WARING et.al (2003) ASGE Guidelines for conscious sedation during gastrointestinal endoscopy. Gastrointestinal endoscopy. 58/3 317,322.
6. GROSS et.al (1996) Practice guidelines for sedation and analgesia by Non-Anesthesiologists. Anesthesiology 1004-17.
7. FROELICH F (2001) Topical pharyngeal anesthesia during gastroscopy. Gastrointestinal endoscopy Vol 54-6.
8. FAULX, A, et.al (2002) Patient tolerance and acceptance of unsedated ultrathin esophagoscopy. Gastrointestinal endoscopy. 55/6.
9. BONTA, P, et.al (2003) Conscious sedation for EUS of the esophagus and stomach: a double-blind, randomized, controlled trial comparing midazolam with placebo. Gastrointestinal endoscopy. 57/7. 842,847.
10. EISEN et.al (2002) ASGE Complications of Upper GI endoscopy. Gastrointestinal endoscopy 55/7.
11. GARCÍA DEL RISCO, F (1999) Sedación en Endoscopía. Revista Colombiana de Gastroenterología. Vol. XIV Nº 2 Abril-Junio 77,79.
12. KENNEDY, RM, et.al (2001) Pharmacological management of pain and anxiety during emergency procedures in children. Paediatrics Drugs 3(5): 337-54.
13. FREDMAN, B, et.al (1999) the effect of midazolam premedication on mental and psychomotor recovery in geriatic patients undergoing brief surgical procedures. Anesth Analg 89(5): 1161,6.
14. PERI, V, et.al (1995) Italian data support upper gastrointestinal endoscopy without sedation. BMJ 311: 453.
15. PHARM, C, et.al (2000) Midazolam sedation for upper Gastrointestinal endoscopy in Older persons: A randomized , double-blind, placebo, controlled study. Journal of the American Geriatrics society. 48/11.
16. FROELICH, F, et.al (1995) Conscious sedation for gastroscopy: Patient tolerance and cardiorespiratory parameters. Gastroenterology. 108/3 697,704.
17. TADATAKA YAMADA. Textbook of Gastroenterology (1999). Chapter 119. Sedation for Gastrointestinal Endoscopy.
18. ADACHI, W, et.al (2002) Quantification of cardiac stress during EGD without sedation. Gastrointestinal endoscopy. 55/1 58,64.
19. FAIGEL et.al (2003) ASGE Preparations of patients for GI endoscopy. Gastrointestinal endoscopy. 57/4.
20. SORBI, D, et.al (2003) Unsedated EGD. Gastrointestinal endoscopy. 58/1.
21. WAYE, J, (2000) Intubation and sedation in patients who have emergency upper GI endoscopy for bledding. 51/6.
22. LA LUNA, L, et. al ( 2001) The comparison of Midazolam and topical lidocaine spray versus the combination of Midazolam, meperidine, and topical lidocaine spray to sedate patients for upper endoscopy. Gastrointestinal endoscopy. 53/3 289, 293.
23. ABRAHAM, N, et.al (2002) Predicting which patients can undergo upper endoscopy comfortably without conscious sedation. Gastrointestinal endoscopy. 56/2.
24. Wang T, Lin J, Waye JD. Worldwide use of sedation and analgesia for upper intestinal endoscopy. Sedation for upper GI endoscopy in Taiwan. Gastrointest Endosc 1999; 50 (6): 888-91.
25. Froehlich F, Schwizer W, Thorens J, Kohler M, Gonvers JJ, Fried M. Conscious sedation for gastroscopy: patient tolerance and cardirespiratory parameters. Gastroenterology 1995; 108: 697-704.
26. U.K. Academy of Medical Royal Colleges and their Faculties. Implementing and ensuring safe sedation practice for healthcare procedures in adults. Report of a intercollegiate working party chaired by the Royal College of Anaesthetists. Available at: www.aomrc. org.uk. November 2001.
27. Faigel DO, Baron TH, Goldstein JL, Hirota WK, Jacobson BC, Joahnson JF, et al. Guidelines for the use of deep sedation and general anaesthesia for GI endoscopy. Gastrointest Endosc 2002; 56: 613-7.
28. Guidelines for conscious sedation and during gastrointestinal endoscopy. Gastrointest Endosc 2003; 58 (3): 317-22.
29. Ciriza C, García L, Fernández A, Díez A, Delgado M, San Sebastián AI. Sedación en endoscopia digestiva. Análisis de la tolerancia y de las complicaciones. Rev Esp Enferm Dig 2001; 93: 587-92.
30. Quine MA, Bell GD, McCloy RF, Mathews HR. Prospective audit of upper gastrointestinal endoscopy in two regions of England: safety, staffing and sedation methods. Gut 1995; 36: 462-7.
31. Daneshmend TK, Bell GD, Logan RFA. Sedation for upper gastrointestinal endoscopy: results of a nationwide survey. Gut 1991; 32: 12-5.
32. Fasoli R, Repaci G, Comin U, Minoli G; Italian Association of Hospital Gastroenterologists. A multi-centre North Italian prospective survey on some quality parameters in lower gastrointestinal endoscopy. Dig Liver Dis 2002; 34 (12): 833-41.
33. Campo R, Brullet E, Junquera F, Puig-Divi V, Vergara M, Montserrat A, et al. Sedación y anestesia en endoscopia digestiva. Resultados de una encuesta hospitalaria en Cataluña. Gastroenterol Hepatol 2004; 27 (3): 205.
34. Mokhashi MS, Hawes RH. Struggling toward easier endoscopy. Gastrointest Endosc 1998; 48: 432-40.
35. Bell GD, Bown S, Morden A, Coady T, Logan RF. Prevention of hypoxaemia during upper gastrointestinal endoscopy by means of oxygen via nasal cannulae. Lancet 1987; 1: 1022-4.