Necrotising fasciitis as a complication of varicella in children

AUTHORS: Santino Figueroa Ángel * M.D , Venecia Romero Flores ** M.D

* Surgeon corresponding to the department of Plastic and Reconstructive Surgery at Hospital Infantil of Mexico Federico Gómez and Hospital Regional Licenciado Adolfo López Mateos. Mexico city, MÉXICO. Plastic Surgeon and General Surgeon
** Surgery resident at Hospital Regional Licenciado Adolfo López Mateos. Mexico city.

ABSTRACT

Varicella is a common and simple infectious disease in children, but necrotising fasciitis sometimes can be a complication, presenting as a rapidly progressive soft tissue infection that can be lethal. In this article, we present 4 children that had been diagnosed with varicella and complicated with necrotising fasciitis. We describe their clinical characteristic as their age, sex, the presentation of the disease, location of the infection, history of NSAID consume, symptoms at time of admission, surgical treatments and complications.

Necrotising fasciitis affects children differently than it does to adults. It is usually present in healthy children with a relatively unremarkable medical history. Early diagnosis and prompt medical and surgical treatment is essential to improve recovery and outcome.

Keywords: Necrotising fasciitis; Varicella zoster,

NECROTISING FASCIITIS AS A COMPLICATION OF VARICELLA IN CHILDREN

Although varicella is a minor, self-limited, superficial infection in children; the disease can be associated with a variety of serious complications (1). Skin and soft tissue infections are the most frequent complications of chicken pox in children, and it is usually caused by Staphylococcus aureus or Streptococcus pyogenes (2,3). Bacterial infection occurs by direct invasion, usually after trauma (4).

The earliest signs of necrotising fasciitis (NF) are oedema and erythema. As the infection worsens, bullaes with clear fluid transform into a haemorrhagic fluid. The infection progresses rapidly, spreading along fascial planes beyond the margins of erithema, with the subsequent proliferation of the microbial pathogen in the superficial fascia, releasing enzymes, toxins and endogenous cytokines that produce liquefactive necrosis (5- 9).

MATERIAL AND METHODS:

We present 4 cases of necrotising fasciitis secondary to a varicella infection in children, in whom diagnosis was made upon clinical characteristics, in a period comprised from 2008-2010, treated by the Plastic and Reconstructive Surgery Departments at the "Hospital Infantil de México Federico Gómez" and "Hospital Regional Licenciado Adolfo López Mateos", in Mexico City, Mexico.

RESULTS:

This study includes 4 cases, (3 girls and 1 boy), ages ranging from 2 to 12 years, without a relevant medical history. The time of duration from the appearance of vesicles to clinical necrotising fasciitis ranged from 4 to 7 days. The site of infection was different for each patient.

Every patient at time of admission, showed signs of systemic inflammatory response and had clinical signs of necrotising fasciitis, ranging from bullaes, skin discoloration, and skin and soft tissue necrosis. Only 2 patients showed foul smelling purulent discharge. An elevated leukocyte count was present in all. Only the patients of clinical case number 1 and 2, showed alterations of renal function as a result of elevation of urea and creatinine, and were hypotensive at time of admission, but responded rapidly to IV fluids and resuscitation. The patient of clinical case number 1 also showed at admission, hyperglycemia, thrombocytosis and an elevation of Total bilirubine to 1.4 mg/dL and direct bilirubine to 1.25 mg/dL.

The first debridement was promptly done in less than 12 hours in most patients, and the maximum of subsequent debridement procedures were 4. Local wound care was given every day and I.V broad spectrum antibiotics were received, and only one patient received fungical antibiotic because of a hemocultive positive for candida parapsilosis. Only 3 of the cultures taken, were positive: 2 cultures showed Streptococcus pyogenes, and one showed Staphylococcus aureus.

Figure Legends:

Figure 1: Patient corresponding to the clinical case number 1, on the operating room, before the taking and placement of the full thickness skin graft as aesthetic units, from the right groin. (21st day)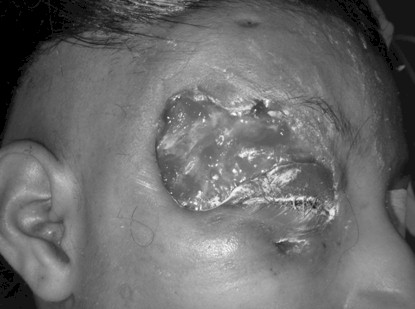 Figure 2: Patient corresponding to the clinical case number 2, on her first evaluation, at time of admission. Note the areas of necrosis and exudate.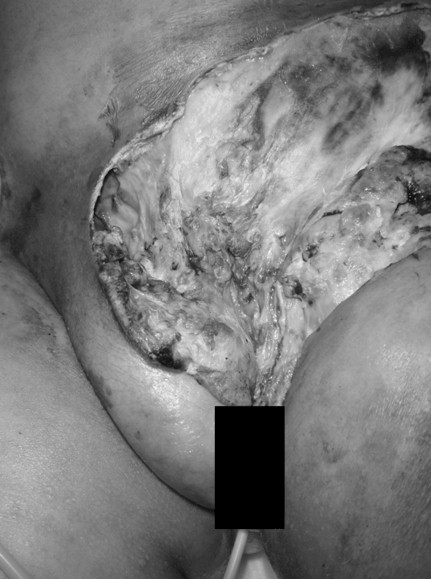 Figure 3: Patient of clinical case number 2, 3 weeks later, showing how the lesion extended further after the first evaluation, now presenting a healthy granulation tissue, ready to be grafted.