FOTOS: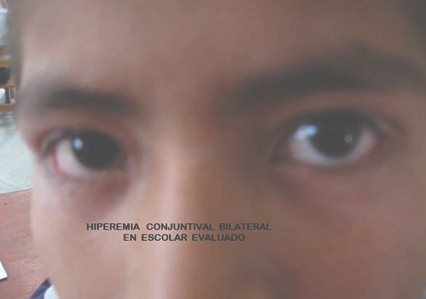 Hiperemia conjuntival bilateral en escolar evaluado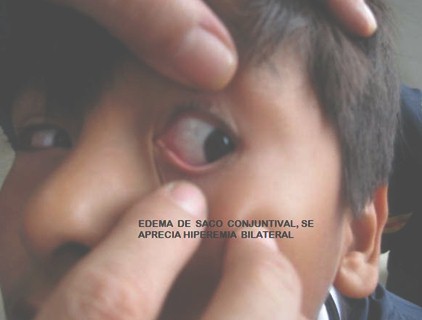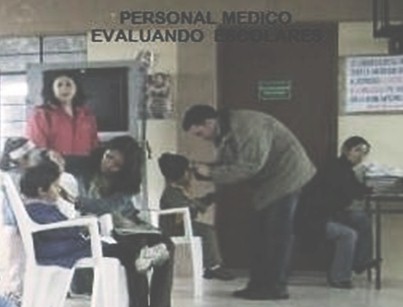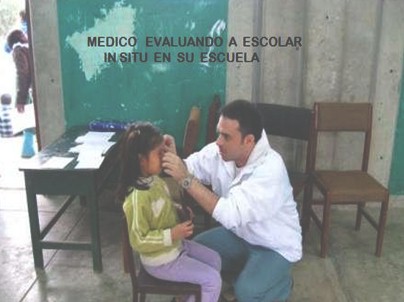 BIBLIOGRAFÍA

1. Actualización en alergia Ocular, Joan Bartra Tomas Ed. Steve 2003
2. Csoma Z, Kemeny L, Boda K, Dobozy A. Investigation of the delayed type hypersensitivity reaction in atopic patients. Orv Hetil 2002;143:2235-9.
3. Bremond-Gignac D. The clinical spectrum of ocular allergy. Asian Pac JAllergy Immunol 2001;19:237-44.
4. Jorge Alvarez Marín "Aspectos Epidemiológicos de las Conjuntivitis en Nuestro Medio" Servicios de Oftalmología y Alergología del Hospital Ntra. Sra. de la Candelaria. Servicio de Oftalmología del Hospital Universitario de Canarias. Tesis doctoral Universidad de la Laguna 1997. España. Pg. 100 - 130.
5. Focal Points 1997 – Conjuntivitis alérgica.
6. Revista 20/20 America latina abril mayo del 2004. Alergia ocular en niños.
7. Seamone C. Jackson WB. Immunology of the external eye, Tasman & Jaeger Duane´s Clinical ophthalmology 22 Ed. Lippincot - Williams 1998 Pg. 1-12.
8. Daniel Aguilar, Virgilio Lima. Hallazgos mas fecuentes en pacientes con rinoconjuntivitis alérgica. Cir Cirug 2007; 75: 13 -15.
9. Bielory L. Allergic and immunologic disorders of the eye. Part II: Ocular allergy. J Allergy Clin Immunol 2000;106(6):1019-32.
10. Benjamín Zepeda, Ortega,Miguel, Conjuntivitis alérgica en la infancia; Revista Alergia México 2007;54(2):41-53.
11. Leonardi A. The central role of conjunctival mast cell in the pathogenesis of ocular allergy. Curr Allergy Asthma Rep 2002;2:321-4.
12. Abelson, M. B. Allergic diseases of the eye. Philadelphia: W. B. Saunders Company. 2000.
13. Aguilar, A. J., Abelson, M. B.; [et al]. Proceedings from a symposium held during the Global Society of Ocular Allergy. 2001.
14. Berra, I.; Aguilar, A. J.; Berra, A. Clinical and laboaory tests in patiens with dry eye, allergic conjunctivitis and dry eye plus allergic conjunctivitis. ARVO. 1999.
15. Discepola, M. Proceedings from a symposium held during the International Association of Allergology and Clinical Immunology. 2000.
16. Berra, AA. Diagnóstico de laboratorio en pacientes con ojo seco. Medicöpea Internacional, 2000, p. 69-75.
17. Crisci, C. D.; Marcipar, A. M.; Ardusso, R. F. Rinoconjuntivitis alérgica. Enfoques. 2000.
18. Conjunctivitis, Preferred Practice Pattern, American Academy of Ophthalmology 2008..
19. Bogacka E. Epidemiology of allergic eye diseases Pol Merkur Lekarski. 2003 Jun;14(84):714-5.
20. Alergia, Stephen C. Holgate, Segunda edicion Edit. Mosby pg. 89.
21. Conjuntivitis. M. Sanchez Salorio 1992 Ciba Vision pg 30 – 54.
22. Alain Raimundo Rodríguez-Orozco, Rosa María Núñez Tapia, Revista mexicana de pediatria Prevalencia de conjuntivitis alérgica Vol. 74, Núm. 1 • Ene.-Feb. 2007 pp 16-18
23. F Vázquez Nava. Conjuntivitis alérgica y factores asociados en un area urbana del noroeste de México. www.siicsalud.com/des/des037/04406000.htm
24. Friedlander MH. Ocullar allergy. In Allergy principles and practice. Middleton E. The C.V. Mosby company. United States of America. 1988; 1469 -1480
25. Bielory L, Frohman LP. Allergic and immunologic disordes of the eye. The allergy and Clin Immunol. 1992; 89: 1 – 17
26. Kilpeläinen M, Therho EO, Helenius H and Koskenvuo M. Validation of a new questionnaire on asthma, allergic rhinitis, and conjunctivitis in young adults. Allergy 2001; 56: 377 - 384
27. Vázquez NF y cols. Prevalencia y factores de riesgo para conjuntivitis alérgica en población infantil. Estudio comparativo efectuado en dos comunidades. Revista Alergia México 2002; 49: 33
28. Allansmith M, Frick OL. Antibodies to grass in vernal conjunctivitis. J Allergy 1963; 34: 535-435
29. Juniper EF, Guyatt GH, Dolovich J. Assesment of quality of life in adolescents with allergic rhinoconjunctivitis: Development and testing of a questionnaire for clinica trials. J Allergy Clin Immunol. 1994; 93(2): 413 – 423
30. Hisrt LW. Conjuntivitis. Australian family Physician. 1991; 20(6): 797 – 804
31. Allansmith MR, Ross RN. Ocular allergy and mast cell stabilizers. Surv Ophthalmol 1986; 30: 229 – 244.
32. Romagnani S. Interleuquinas Th1 y Th2, DERMATOLOGÍA PERUANA - VOL. 9, SUPLEMENTO 1, DICIEMBRE – 1999
33. Alergia Ocular ; Alejandro J. Aguilar, MO, y Alejandro Berra, MO Médico Oftalmólogo Año14, Nº 4, septiembre de 2001, ISSN 1515-4785, © Consejo Argentino de Oftalmología.
34. Instituto Nacional de Estadística e Informática, Perfil Socioemográfico del Perú. Censos Nacionales 2007: XI de Población y VI de Vivienda, INEI, Lima, agosto de 2008, 2ª edición, pp. 29, 30.
35. Gradman J, Wolthers OD. Allergic conjunctivitis in children with asthma, rhinitis and eczema in a secondary outpatient, clinic. Pediatr Allergy Immunol 2006; 17: 524-6.