Alternativa no invasiva para el diagnostico de la neoplasia vesical en el adulto mayor .6
Tabla Nº 4. Distribución de pacientes con neoplasia vesical según síntomas clínicos de debut.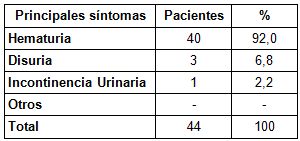 Fuente: Expedientes Clínicos.
Tabla Nº 5. Distribución de pacientes con neoplasia vesical según características ultrasonográficas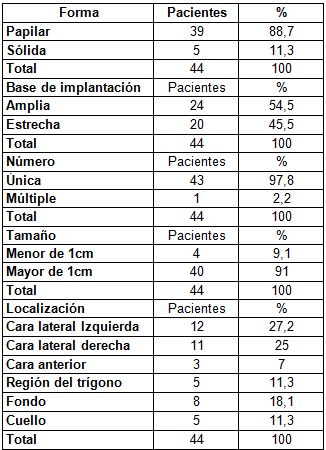 Fuente: Expedientes Clínicos.
Tabla Nº 6. Distribución de pacientes con neoplasia vesical según repercusión sobre el tracto urinario superior.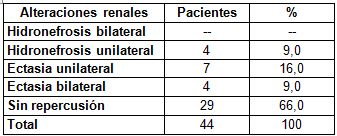 Fuente: Expedientes Clínicos.
Bibliografía
1.     López L. R. Análisis clínicos. Diagnóstico analítico del cáncer de vejiga. Offarn 2001; 20: 144-9.
2.     Valls. P. O. Tumores vesicales en Atlas de ultrasonido Diagnóstico. La Habana: Editorial Científico Técnica; 1983.
3.     Alcalde M. M.: Incidencia y mortalidad por cáncer de vejiga en España. Boll Epidemiol Sem 2003; 11(1); 1-4.
4.     Gelabert Mas A, Arango Toro O, Bielsa O, D'ado Carbonelli O. Estudio prospectivo y randomizado de la respuesta completa, índice de recidivas y progresión en el carcinoma vesical superficial tratado con mitomicyna G sola versus mitomycina G y BCG alternos. Arch Esp Urol 1993; 46 -5:379-82.
5.     Satinisic T H. Surveillance of superficial cancer- traditions and innovations. J. Urol 2001, 162: 1957-8
6.     Hasui M, Osada Y, Kitada S, Nishi B. Significance of invasion to the muscularis mucosas on the progression of superficial bladder cancer. Urology 1994; 42:782-6.
7.     Martínez E; Morotte J: Marcadores Tumorales del cáncer vesical. Med Clin Bar 2000; 114: 378-9.
8.     Beno AV, Benvenati G, Damiano G, Levi Solo J. Results of transurethral resection and intravesical dexorubicin prophylaxis in patient with Tl bladder cancer. Urology 1994; 44:329-35.
9.     Page B H, Levisen VB, Curwen MP: The site of recurrence of non-infiltrating bladder tumors. Br J Urol 1978; 50:237-42.
10.   Steimans C, Yuan Y, Bates M N, Smith A. H.: Case control study of bladder cancer and drinking water arsenic in the western United States. Am J Epidemiol 2003; 158: 1193-2001
11.   Mungan N. A.: Urinary bladder cancer the follow up of the supperfitial blazer cancer. Urol, 2001, 56: 787-792.
12.   Gómez Sampera A.: Estudio diagnóstico del cáncer de la vejiga. Acta Médica 1989; 170 -86.
13.   Fitzpatritc JM, Goda M. Bladder: Carcinoma in patients 40 year old or less. J Urol 1985;135:4.
14.   Ogawa H, Yangisawa Y, Nolconate T, Majiki M.: Treatment of bladder carcinoma in patients more than 80 years old. J Urol 1985; 134:889-91.
15.   Studer NE, Bioderm C, Chollet D, Karner R, Togenburhl H, Venbank F.: Prevention of recurrent superficial bladder tumors by oral etretinate, preliminary results. J Urol 1984; 131:47-9.
16.   Kanat MR, Kullcarni JN, Tongaenkar HB, Dalal AV.: Intravesical bacillus Calnette for superficial bladder cancer: experience with Danish 113. Strain. Urol 1994;15 2:1524-28.
17.   Bohle A, Friedrich B, Wietershein J, Jochom D.: The quality of during intravesical bacillus Calnette. Guerin Therapy. Urol 1996; 155:1225-6.
18.   Maffezzini M, Simanete A, Zanen M, Raber M, Carnignani G.: Up front intravesical chemotherapy for low stage, low grade, recurrent bladder cancer. J Urol 1996; 155:91-3
19.   Busto Castañón L.: Estudios de factores pronósticos del cáncer superficial de vejiga. Arch. Esp: De Urol. 2001; 54(2): 131-38.
20.   Gómez Sampera A. Cáncer de Vejiga II. Resultados del Tratamiento. Rev. Cubana Cir 1985; 24:415-23.
21.   Raghzvar D, Shipley W, Garnion MB, Russell R, Hitchis J.: Biology and management of bladder cancer. New Eng J Med 1990; 322:1129-38.
22.   Smith Donald.: Urología General. 14 ed. Barcelona: Editorial Salvat; 2002.
23.   Cooner W, Mosley B, Ruthrford C Jr, Beard J, Pond H, Terry W, Igel T and Kidd D: Prostate cancer detection in a clinical urological practice by ultrasonography, digital rectal examination and prostate specific antigen. J Urol 2002:143:75-83.
24.   Cuba. Ministerio de Salud Pública: Anuario estadístico de Salud 2006.
25.   [SA],        TRATAMIENTO     Disponible             en: http://www. elmundo. es/ el mundo salud/ especiales/ cancer/ próstata 6.html [Consulta realizada] 12 abril de 2008.
26.   [SA], ESTADÍSTICAS. Disponible en: http:// www. el mundo. es/ el mundo salud/ especiales/ cancer/ próstata 2.html [Consulta realizada] 12 abril de 2008.
27.   Entargem M Hospimédica: Cancer vesico prostático. Pag. 5.2005.
28.   Buell P, Dunn J and Breslow l: The occupational-social class risk of cancer mortality in man. J Chronic Dis 2003:12:600-612.
29.   Clemmensen J and Nielson A: The social Distribution of cancer in Copenhan. Br J Cancer 2003:5:159-171.
30.   Arbor Ann.: Medical International Imaging. Full body pag14, 2005-12-18.
31.   Walls. Parrilla, Atlas de ultrasonido, imágenes HAI, Pág. 18, 1983.
32.   http://www. apuntes de anatomia. org/ org/ vejiga.htm (6-11-2008)